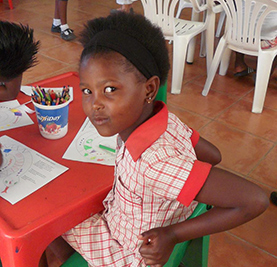 Until June, 2016, Yomelelani was dedicated to the Foundation stage of education in South Africa but with the granting of the 100% lease from the Municipality came the condition that a crèche should also be opened for babies 3 months to 24 months old. The definition of the creche was later expanded to include those up to 3 years of age. It was quickly realised that the majority of the new age category of 2 to 3 year olds wore nappies, requiring the same facilities as the younger children. The attendance of the school currently now looks like this :
| | | |
| --- | --- | --- |
| Creche | 12 Children | (3-12 months) |
| | 14 Children | 1-2 years |
| | 47 Children | 2-3 years |
| Pre School | 80 Children | 3 – 5 years |
| Total | 153 Children | |
The Creche
There is a combination of children brought up by grandparents, parents, single mothers, teenage mothers (still attending secondary school) and parents employed as seasonal workers on the wine farms. The fee for the babies is R 180 per month. The person responsible for the child must supply the milk and nappies. If the person cannot pay the fee Yomelelani endeavours to find a sponsor for that baby.
The problem is that the subsidy from the Dept of Social Development is only R 15 per day per child. With the fee plus the subsidy Yomelelani is still operating at a loss. A higher fee cannot be considered as the above mentioned group of people has a very limited income or no income!
Special facilities have been installed for the babies in the refurbished premises, including a potty training bathroom and a new room designated as a sick bay. Any baby with a health problem will immediately be segregated. In a township where approximately 50% of homes have no winter heating, sickness is prevalent. Cross infection is a continual danger.
All chemicals and medication will be securely stored and out of reach of children.