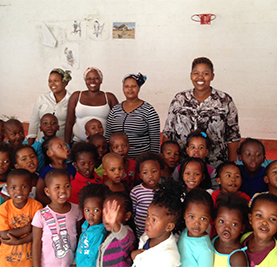 Please help the Pre-school directly or the UK supporting Trust
We have established 5 methods of donating, hopefully catering for everyone's tastes. There are 4 options for donating to the Yomelelani Pre-school & Creche in South Africa through it's UK associate, The Yomelelani Trust.
All UK donations to the Trust are eligible for Gift Aid which increases the transferable sum by 25%. The sole objective of the Trust is to support the Pre-school in South Africa as set out in it's objectives illustrated in the UK Charities Commission registration no. 1161202. The fifth option is by direct transfer.
Standing Orders / Regular Donations
If you are planning to give regularly, please fill out the method you are going to use below by clicking on a green box. We will record the details of your first donation so that we can properly account for your gift and receive gift aid if applicable (UK only). You will then be able to see the relevant payment details.
Please select an option below to complete your donation:
Bank Transfer
(UK)ChequeCredit/Debit Card
(via PayPal)CAF Donation*Bank Transfer
(South Africa/International)
*The Charities Aid Foundation (CAF) assists Charities by offering facilities which can be utilised for the collection of donations. Moreover, they have schemes which are a tax-effective way to donate from pre-tax salaries, by offering individual charity bank accounts and donating anonymously etc. To find out more about The Charities Aid Foundation, please visit www.cafonline.org.