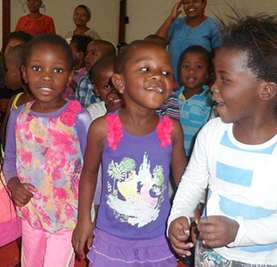 Yomelelani's sources of income are government grants, school fees and sponsorships, & donations.
The size of the government grant is limited to the number of children registered whose parents/guardians are in extreme poverty. The grants amount to R15 per child per day. In the school year to 31/3/15, with a school of 60 children, approximately 36% of total costs were unfunded. As stated elsewhere the school currently has 153 children and the Grant for 2019 has been increased to reflect only 101 of the children in attendance, parents of the residual 52 being marginally over the qualifying level.The majority of the 101 are orphans. In a full year, therefore, the Grant covers approximately 30% of operating costs with fees providing another 19%.The unfunded portion of expenses will rise to around 51% (R660,000/£39,000).
This represents a serious cash flow problem for the school.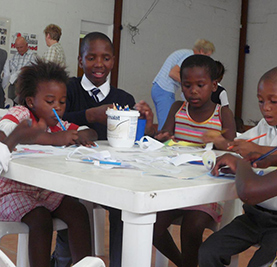 The generosity of local and international support has been crucial to the survival of Yomelelani. Without such help the school would not have been able to operate let alone expand. The 2015/16 deficit of R125,000 has been replaced with a prospective deficit of R660,000 following the June 2016 opening of the enlarged school with the accompanying additional staff, associated wages and the leap of nutritional costs. Consumption of the usual overheads (electricity, water and other utilities) have risen proportionately, aided by inflation.
We need your help!!
The Yomelelani Trust, reflecting your donations, is committed to playing its part, by raising funds in the UK and internationally.
The town of Hermanus support has been tremendous, encouraged by the local newspaper. Children's clothing, classroom equipment, books, flash cards, posters, works of art, furniture and much more has been and continues to be donated locally.
Please do consider if you can Donate