From Hou Moed to Yomelelani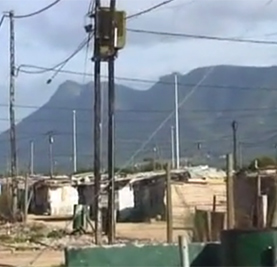 The Hou Moed Centre was started in 2000 by a retired hospital administrator, Theo De Meyer, as a night shelter for the homeless on the disused Hermanus Airfield site owned by the Overstrand Municipality. Inspired by Theo, some older boys restored part of the dilapidated buildings and created a Youth Centre which provided recreational activities and a meal for local children.
Over time, Hou Moed became a vibrant Youth centre, adding an after-school and recreational facilities. In 2003 a small area was also set aside to create a Nursery/Preschool, which was the starting point of Yomelelani. When Theo De Meyer retired in 2013/14 the property was transferred to a national charity, which decided a year later to hand the Centre back to the local Municipality.
At this time the small Preschool was flourishing with some 50 children attending. With the help from members of the United Church in Hermanus, the Municipality was persuaded to grant a lease of the whole site to Yomelelani on condition that some of the buildings on the site were upgraded and a creche created. In 2015 plans were agreed and, with the help of a local Abalone Company, AQUNION, 5 classrooms, a creche, a recreation hall, modern toilet facilities, a sick bay, staff rooms, storage facilities and an outside play area were created at a cost of over R1.0m. The works were completed n 2016 enabling the school to increase enrolment to 100 children plus 20 babies.
In 2019, a decision was made by the annually elected Yomelelani Management Committee to build 2/3 new classrooms within part of the recreation hall to enable the school to offer Grade R education to 5 and 6 year olds thus equipping them for Primary school education. The project also included upgrading the kitchens and toilets as well as a major part of the roof. This was completed in early 2020 at the cost of over R500,000, funded by the Yomelelani Trust, a UK Charity.