The School currently caters for 260 children which includes 10 – 12 sibling babies. There are 60 Grade R learners all of whom hopefully will move on to one of the two local Primary schools. There are also 60 pre-grade R learners and 130, 1 to 3 year old children.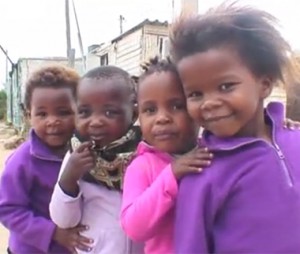 The school is open from 7.30am until 5.30pm every weekday other than public holidays and during the summer holidays from mid December until mid January.
Daily Programme.
The children follow a structured educational programme which includes learning to read, write and spell in Xhosa and English, basic maths, drawing and painting, basic geography, appreciation of animal life, life lessons on food, nutrition, body hygiene, shopping and family. The programme focuses on the physical social, emotional, cognitive and spiritual needs of the children and the teachers seek to encourage the children to explore their potential.
Operating Criteria.
The school has a Christian ethos and operates to a number of key criteria which have substantially contributed to its success:
Class size are limited to 30 children with one carer per 6 babies.
Each child receives a structured education up to Grade R (up to 6 years old).
Each child is provided with a healthy breakfast and nutritious cooked lunch.
Teachers are paid a market related salary and encouraged to enhance their teaching skills and qualifications.
Parents are required to pay a small monthly fee per child.
The Staff Team.
The school is tightly managed by Corny Rode, The General Manager, and the Principal, Nondlaliso Sonkwele, known as Rose.
Corny joined Yomelelani in 2015 as Principal and General Manager. She delegated the role of Principal to Rose in 2019. Corny comes from a strong missionary background. She has a teaching diploma and was Principal of the Ruth Arndt ECD in Pretoria. She taught at the SA Defence Force College of Technology and worked as a senior administrator with the South Africa Medical and Dental Council – SAMDC. Corny manages the administrative and financial functions of the school including staff recruitment, interaction with the Provincial Education Authorities, relationships with Donors, child protection, compliance, finance and purchasing.
Rose started as a teacher in the school some years ago. She is a qualified Grade R teacher and is studying for her B. Ed Foundation phase at Studio University. She runs the educational side of the school including admissions, parental relationship, staff management, school discipline and implementation of the school curriculum. Most importantly, Rose is the key relationship link with the local Community.
There are 16 other members of staff, 11 of whom are teaching staff with relevant qualifications :
1 additional Grade R teacher and 2 pre-grade R teachers
5 ECD practitioners and 3 ECD Assistant/trainees
1 carer
An excellent cook
2 cleaners
1 caretaker/security guard